Join us for the third and final panel of our series on March 31st on the topic of community clinics and racial justice moderated by Professor Fay Faraday with Darcel Bullen, Shalini Konanur and Vince Wong.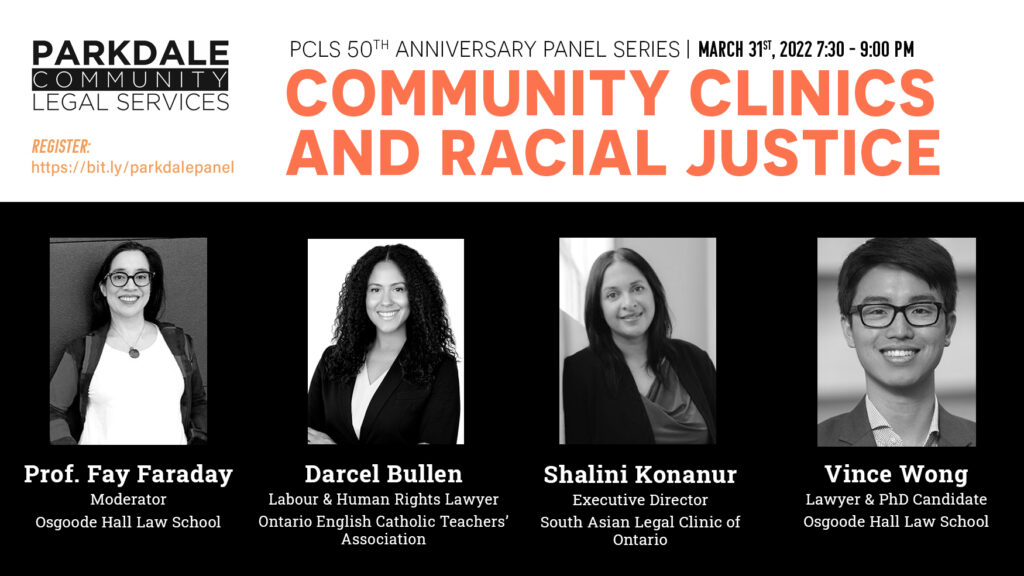 Panel 3 Community Clinics and Racial Justice March 31, 2022 from 7:30 – 9:00 PM  Register
Moderator: Professor Fay Faraday
Panelists: Darcel Bullen is a labour and human rights lawyer. She advocates for unions in collective agreement negotiations, mediation, and arbitration. Darcel has appeared as counsel before the Ontario Labour Relations Board, the Human Rights Tribunal of Ontario, the Ontario Divisional Court, and Ontario's Workplace Safety and Insurance Appeals Tribunal. She is the co-founder of Labour in Colour, a group for worker advocates in Ontario who are Black, Indigenous, People of Colour.
Shalini Konanur is the Executive Director and senior lawyer at SALCO. Shalini has been practicing the Ontario's legal clinic system since 2001, and before that was a student in Parkdale Community Legal Services in the late 1990's. Shalini has worked in both rural and urban legal clinics, and has worked almost exclusively with racialized communities since becoming SALCO's Executive Director in 2008. Shalini has an active caseload, spearheads SALCO's test case work, and works on several law reform campaigns around the intersections of poverty, race, gender identity, immigration status, and faith-based discrimination. SALCO's mandate at its core is to improve access to justice for low-income racialized communities and to break down the intersecting barriers of racism and discrimination that impact the communities that it serves.
Vincent Wong is a lawyer and PhD Candidate at Osgoode Hall Law School, where he researches racial capitalism and its relationship to the production and structuring of undocumented labour in Canada. He is also on the board of the Community Justice Collective (Tkaronto). Previously, Vincent was Staff Lawyer at the Chinese and Southeast Asian Legal Clinic and Secretary of the Chinese Canadian National Council – Toronto Chapter. He has also worked for the International Human Rights Program at the University of Toronto and the African American Policy Forum.
Watch recordings of our past panels below:
Panel 1 Looking Back: Critical Campaigns and Cases, January 27, 7:30-9:00 PM
Panel 2 Community and Movement Lawyering, February 24, 7:30 – 9:00 PM