The following draft bylaw changes were approved by the Board of Parkdale Community Legal Services to be voted on at our Annual General Meeting on September 26, 2018. To request a hard copy of the draft bylaws, you can call us 416-531-2411, or come by our office and speak to reception.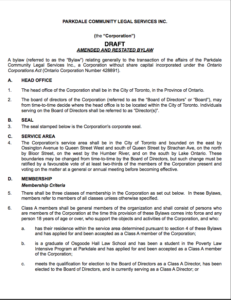 As an Ontario not-for-profit, Parkdale Community Legal Services Inc.'s Policy Committee has proposed changes to our bylaw. The changes will bring our organization into compliance with the Ontario Not-for-Profit Corporations Act [1]. The proposed changes are summarized below.
Section D: "Membership"
The creation of three membership classes.
Paragraph 6, Class A members represent the current general members of the organization.
Paragraph 7, Class B members represent students currently registered in the Poverty Law Intensive Program.
Paragraph 8, the sole Class C member is the Dean of Osgoode Law School.
Paragraph 11, explains voting rights for each membership class.
Section E "Board of Directors"
Paragraphs 16, 17 and 18, on the process for the election of Directors for each of the membership classes.
Section G: "Board meetings"
Paragraph 35, modified to include phone and electronic method of communication for participating in Board meetings.
Paragraph 46, modified to reflect the removal process for Board members by Class.
Section H: "Meetings of Members"
Paragraph 58, clarifying duties of Directors in chairing meetings of members.
Paragraph 66, regarding the process for the election of Directors.
Section K "Technicalities"
Paragraph 88, to include electronic communication as a method of official communication to members and directors.
[1] To learn more about the Ontario Not-for-Profit Corporations Act, please see the backgrounder from Community Legal Education Ontario: http://nonprofitlaw.cleo.on.ca/onca-essentials/